My mom used to make amazing bon-bon cookies for Christmas, and in my turn I made them as well. They were buttery and almondy and had a chocolate chip in the center, and a delicious hard pink glaze over the top…they were wonderful. I've been missing them, and recently I had some gluten-free almond cookies (which I found out, too late, were not actually as gluten-free as they were advertised. Really, people, if you're going to sell your food as gluten-free, please make sure you know what you're talking about. My swollen tongue and messed-up insides would thank you.) and they intensified my yen, so — here's my latest try at making the bon-bons, but gluten free.
You can assume from the word "latest" that I've tried to make gluten free versions of these before, without success. My first attempt, on Tuesday, was ok… but lacked cohesiveness – the dough was crumbly and not sufficiently dough-like – too dry – the cookies were mildly bitter – the glaze wasn't right – oh, a host of things. I've made a good start at fixing the problems with the latest batch, and I look forward to getting better yet at this. 😀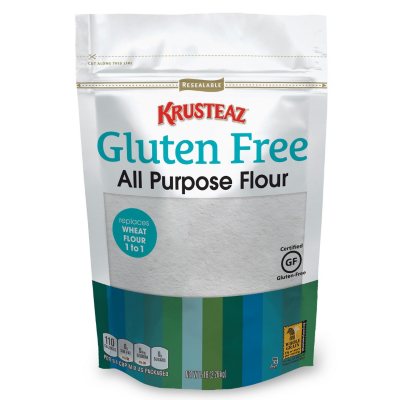 I used "Krusteaz" gluten-free flour, which touts itself as being a "1 for 1" substitution for wheat flour, which is kind of the holy grail of gluten-free baking – something I can use in my old recipes without other substitution? Sign me up! Unfortunately, I find that these rarely work as straight 1 for 1 replacements; the way the different flours deal with liquids, and the way they taste, often leaves the final result too runny, too dry, too gritty, tasting bitter or beany or just off somehow. I mean, the baked goods are still usually ok… but most flours are not the panacea they claim to be.
The first batch I used only Krusteaz, and the texture was a bit too dry and the flavor a tad bitter for me. This second batch, I used a combination of Krusteaz and rice flour, and it worked much better. I also increased the butter (because why would one not?) and doubled the milk. These were the scientific substitutions; unfortunately, I also got all the way into the process before I discovered that I had no powdered sugar. Did I let that stop me? Did I whip out the food processor and make my own blinking powdered sugar? NO to both questions (I've tried to make my own before, and the results were spotty at best). I just used regular sugar in the same amount, and all was well.
I regret to say that I also lacked three ingredients for the heavenly glaze, so I made a plain old donut glaze and put it on. It's ok, but I'm going to give you the real glaze recipe instead, that you may enjoy its shiny sticky glazey beauty.
INGREDIENTS FOR MOM'S BON-BON COOKIES

(sans chocolate chips; if you'd like chocolate chips in the center, and oh my god are they good, then simply form the dough balls around a chocolate chip or two, then bake as per the recipe. It's also been suggested – by Betty Crocker, that minx – that almond paste in the center would be good, and I'm going to try that next; because the world simply can never contain enough ways for me to eat almond paste. But I digress.)
1 3/4 c flour (I used 1 cup Krusteaz and 3/4 cup white rice flour)
1/2 c confectioner's sugar (I used regular sugar because I am a renegade)
1/2 c butter (I used 3/4 because butter is the essence of life)
2 T milk (I used 4)
1 t almond extract (I used 2 because I always want more almond flavor)
1/2 t salt (all I had was kosher, so hey… it adds zing)
INSTRUCTIONS
Preheat oven to 350F. Make sure your butter's really nice and soft, or you'll be fighting to combine your ingredients. Plop 'em all in the bowl and use a beater (if you've got it) to combine. When your dough is making a ball (or at least sticking together like a semi-functional sitcom family), form into small (1-inch) balls and put on a cookie sheet about 1 inch apart. I hate cleaning, so I use parchment paper. Am I supposed to? No. Does that stop me? Also no.
Once you're all balled up, put the sheets in the oven for about 15 minutes. Don't wait for these to brown up, or you may wait too long. I like to make sure the bottoms are nice and brown, and when I left these in for a minute or two too long, they got beautifully crunchy, so for whatever that's worth. :}
Take the cookies out and let them cool while you make the glaze – if you have a wire rack, you can transfer them to it for glazing. I like to put some more paper under the racks so I'm not scraping hardened glaze off the counter for an age after I make these. It always makes me feel a little too much like Sisyphus, except, you know, with pink frosting.
GLAZE
1 c confectioner's sugar
1 T H20
a little less than a T lite corn syrup
1/2 t salad (vegetable) oil
1/4 t almond extract (I always use more because I am in love with the almond)
(optional) 1 drop red food coloring
This makes a nice, stiff glaze that, once dribbled over the cookies, will become a hard, candylike shell. It's pretty much the best part. Make sure you give it enough time to set before you pack your cookies away, though, or you'll have a sticky pink mess. Not that I know this, because I've totally never done it. No, wait, I almost always do it. So yeah, I know whereof I speak. (shame)